Since time immemorial UTKAL (Translated into the ancient language of Sanskrit, means the LAND OF EXQUISITE ART) and now known as the state of Orissa, is a land famous for its handlooms, handicrafts and sculptures.
Orissa handloom Sarees were exported to various foreign lands like Java, Sumatra and Indonesia thousands of years back. Now the ancient sea routes have vanished and modern age has taken over, yet the popularity of traditional Sarees have only grown and it world famous now.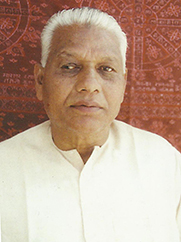 If we say that Mehers handlooms is primarily responsible in today's world in popularizing hand over sarees and other handloom products all over the globe, we are simple stating a fact. Its no boasting that Mehers handlooms under the guidance of Mr. Chaturbhuj Meher the man known all over as the "MIDAS OF IKKAT" and Mr. Sankar Kumar Meher the man best known for his superlative Saree designs have revolutionized and popularized these products and are the true pioneers of Orissa handlooms. But for this family, these traditional products would not have been there anymore. It would have been in the hand of copycats who steal the designs and produce them in power looms.
The aim of this website is to bring forward into view to the public interested in the Orissa handlooms, that they see what is genuine and what is not and also enable them to purchase directly from the Mehers.
Shilpaguru Padmashree Chaturbhuj Meher is a genius in tie and Dye handloom weaving art who has immensely contributed towards the revival and development of handloom textile to an unimaginable artistic height and also for improvement of the socioeconomic condition of the weavers' community at large.
Born on 13th October, 1935 to an ordinary weaver family of Sonepur, Orissa, Chaturbhuj Meher's life is a saga of struggle, dedication, determination and penchant to learn new things, Orphaned at the age of 9 Shri Meher struggled hard for existence. Leaving school before completion of class 5, he took up his ancestral profession of weaving to eke out a living. Chaturbhuj Meher began to 2w2eave at an age when he was so small a boy to handle the loom. The prying little weaver learnt the techniques of weaving from master weavers around him and soon developed the dexterity and finesse in weaving complex designs and patterns having traditional Butta, Bandha, Kumbha and Ancha.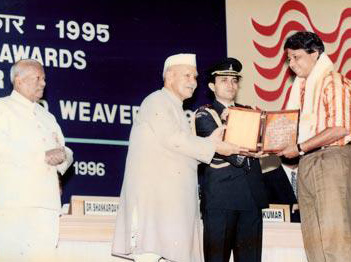 Shri Sankar Kumar Meher hails from a traditional weaver's family. He was born in 1959 and has already acquired 15 years experience in the tie and dye technique.
Having learnt all the intricacies of the designs, he achieved mastery in the craft. He has participated in various exhibitions in different parts of the country.
He has produced many artistic fabrics, revived traditional designs of Orissa and imparted handloom and tie and dye training to many weavers.
Shri Sankar Kumar Meher received the National Award for his excellence in Saree Weaving from the President of India in 1995 for his Pancha Devata Upasana Saree.